The rich functions and ultra-low splice loss make the splicer adaptive to fiber splicing in various environments. Multiple fusion modes and heating modes are available to meet various customers' demands. Fiber loading becomes more convenient and accurate.thanks to the ceramic V-groove of high precision, which is easy for clean and maintenance. 
Description
The monitor is a touch screen with GUI for smooth operation. The modular pluggable lithium-ion battery with large-capacity ensures long-time field operations. 
6481 Optical Fiber Fusion Splicer
The splicer is capable ofdual-directional fusion. 
The auto environmental compensation system greatly improves adaptability of the splicer to extreme environments to ensure your work smoothly and continuously
Parameter
| | |
| --- | --- |
| Precise fiber core alignment | 5mm fusion splicing for fibers of ultra-short cutting length |
| 7s fast fusion splicing | 64 images storage |
| 320 times image magnification | 10000 groups of fusion records |
| 300 groups of fusion splicing modes | 100 groups of heating modes |
| Dual-direction splicing | automatic splicing, intelligent pyrocondensation |
| USB and SD card interfaces | U-disk automatic software upgrade |
| Built-in modular lithium battery | supports 220 times of splicing and heating cycles |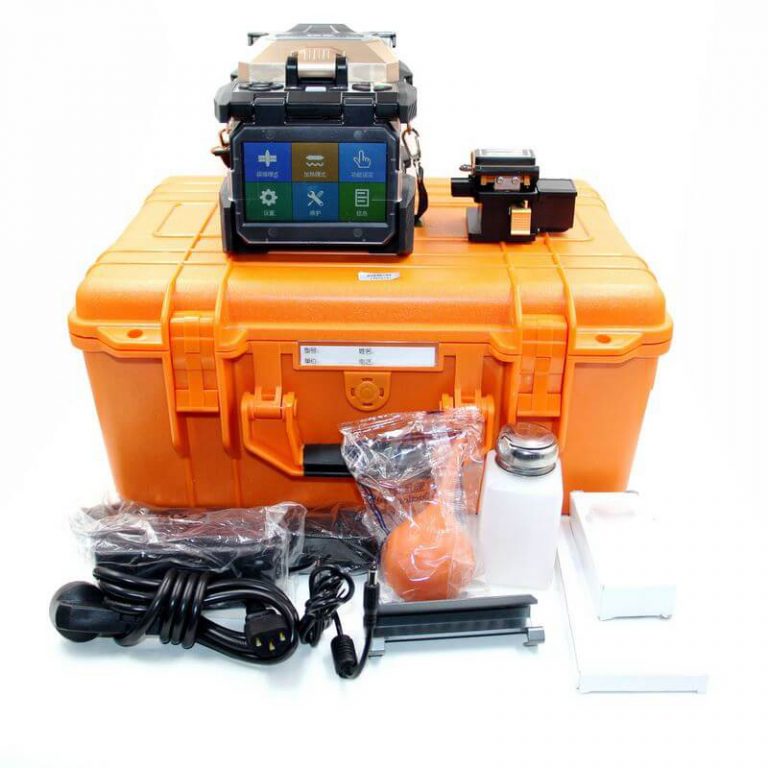 Water-resistant, dust-resistant, shock-resistant, greater environment adaptability
Meet IP52 requirements.
All-in-one fixer
The all-in-one fixture meet fusion demands of multiple optical fibers, jumpers and rubber-insulated wires with a cladding diameter of 80~150μm.
Graphical interfaces and touch screen
6481 uses entirely new GUI and touch screen in design. Operators can set up the splicer and get to know relevant information of it
simply and directly by graphical interfaces.
Intelligent heat shrink
A detection unit is embedded in the heater. The heating function will only be enabled when the protection sleeve is put in the heater, to avoid mishandling.
Pluggable lithium-ion battery of large-capacity
The built-in pluggable lithium-ion battery of large capacity can answer working demand lasting all day long (typical 220 counts of splicing and heating cycles).
Ceramic V-groove and ceramic presser foot
Ceramic V-groove with high precision brings you convenient and accurate placement of optical fibers and makes cleanup easy.
Carrying case
The carrying case is novel in design and light in weight, has built-in compact working bench. Open or close the cover can turn it to a working bench.
TYPICAL APPLICATIONS
6481 Optical Fiber Fusion Splicer is compact equipment deploying the design of ergonomics, which delivers convenient operation and handy carrying case. Event very short fibers can be spliced easily. It's capable of construction and maintenance of optical fiber line projects (including trunk), emergency repair, production and test of optical fiber devices and research and study in institutes.